Gold Seal RR 22270 (Single)

Promotional disc, recorded by Jo Stafford for "snowy" bleach and "GLASS WAX"

Also issued on 45 rpm as Gold Seal RR 22500 / 22501

Issued 1954 (Date unknown)

I Only Have Eyes For You
Matrix No. unknown * Recorded August 13th 1954

St. Louis Blues
with the Starlighters
Original Matrix No. unknown * Columbia Matrix No. RHCO 33338 * Probably recorded 15th June 1954 (see Notes) 


NOTES

Gold Seal, the manufacturer of Snowy Bleach and Glass Wax, sponsored the Jo Stafford Show (CBS Television, 1954-1955). Between October 1954 and the spring of 1955, customers who bought a box of Snowy Bleach could order a special Jo Stafford single for 25 cents ('Here's all you have to do: Send a Snowy Bleach box top and 25c to the Gold Seal Company. Not only will you have the pleasure of adding a Jo Stafford hit recording to your collection – but if you haven't ever tried Snowy, you'll now have the opportunity to whiten and brighten your pretty nylon things with this amazingly gentle bleach'). See images at the bottom of this page.

'St. Louis Blues' is officially thought to have been recorded in February, 1955. Personally, I believe Ms Stafford waxed it on June 15, 1954, a date mentioned in the Jo Stafford archive. It seems that Gold Seal, for their promotional disc, used two recordings which were originally made for the Jo Stafford Show. According to a report in Billboard, dated February 13, 1954, the songs in this show were pre-recorded: 'Miss Stafford and the quartet pre-record the 7:45 – 8 p.m. show on tape the Tuesday afternoon before it goes on'. June 15, 1954 was a Tuesday, so I think that 'St. Louis Blues' was indeed recorded for the television show that day. CBS aired it that evening – and re-used it at least once, because it was also included in the November 9 episode of the show (source: a review in the November 20 issue of Billboard magazine). Columbia must have decided to release this recording themselves in February 1955, and then assigned a Columbia matrix number to it. (Also see my note on Columbia single 40538).

Probably because releasing a single was a one time deal for Gold Seal, they did not care much about the numbering of the records. At least, that's what it looks like. Contrary to what is usual, both the 78rpm and the 45rpm version have two numbers - one number for each side of the disc: RR 22270 and RR 22271 for the 78rpm single, RR 22500 and RR 22501 for the 45rpm version. But if we take a close look at the various copies of the 45rpm single still circulating, we see something that is even more unconventional. On some of the copies, 'St. Louis Blues' is numbered RR 22500 and 'I Only Have Eyes' bears number RR 22501, whilst other copies have 'St. Louis Blues' as RR 22501 and 'I Only Have Eyes' as RR 22500 – exactly opposite. My theory is that the production of this promotional single was coordinated by people who had absolutely no experience with having a record made. Maybe the advertising agency hired by Gold Seal was completely responsible for the process and had all the contacts with the diskery, without any assistance from a record company. (If you have a better, more friendly explanation, please contact me at info@jostafford-discography.com)
It is also notable that part of the copies of this single have a blue label with Ms Stafford's signature and the Gold Seal logo printed on it, while other copies of the same single have a plain yellow label. Did Gold Seal's promotional campaign start with the issue of the yellow labeled discs, or were they issued after the blue labeled copies had been sold out? Were you already an adult at the time, and do you happen to remember these kind of details? Please contact me at info@jostafford-discography.com!
Below: clips from advertisements published in the Gettysburg Times (October 28, 1954), the Boston Globe (November 4, 1954), the Chicago Tribune (December 2, 1954), and the Detroit Free Press (March 17, 1955)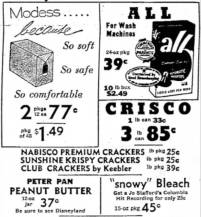 Gettysburg Times Oct28 1954 p19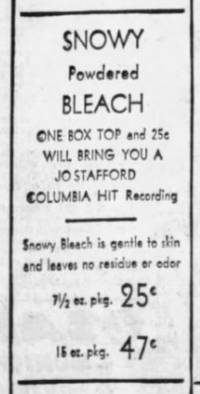 Boston Globe Nov4 1954 p5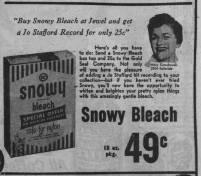 Chicago Tribune Dec2 1954 p51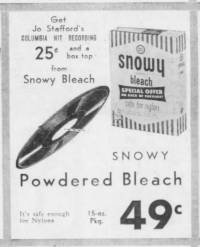 Detroit Free Press March17 1955 p26